Panoramic Tour of Dubrovnik with Olga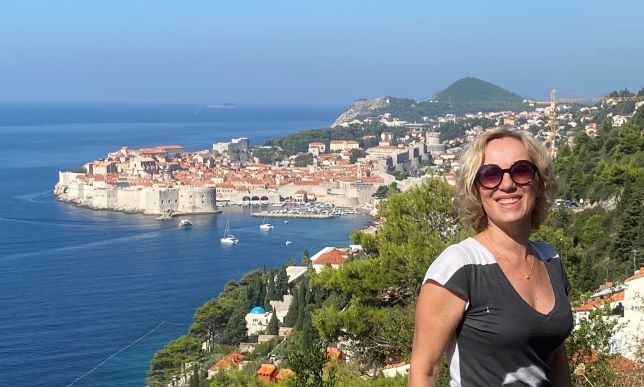 Thursday, January 21, 2021 | 3:00pm - 4:00pm
Details:
Olga Cuckovic, licensed Tourist Guide of Rome and the Vatican City, returns to The Center via Zoom! This time Olga takes us on a tour of the city of Dubrovnik in her hometown of Croatia that she continues to visit regularly. Hear the fascinating history of the city that once was the center of the independent aristocratic Republic of Ragusa, traverse the narrow alleys and charming museums, walk along the mighty Dubrovnik City Walls. Learn about the local culture and traditions, as well as helpful tips for traveling there in the future. Croatia is a very popular tourist destination and the spectacular city of Dubrovnik is a jewel in the crown and one of its most beloved locations.
Olga has lived and worked in Rome since 1992, but visits her hometown regularly to spend time with family and friends. A lover of art, she obtained her Master's Degree in Arts Management at the American University of Rome last year and has completed her TEFL certificate (Teaching English as a Foreign Language) this year. You may wish to visit her site www.olgarome.com or find her at Instagram as @olgaromeofficial .
Register in advance for this meeting:
https://us02web.zoom.us/meeting/register/tZAtf-morz0vGNxiQps4gGI3cewdId5e72us
After registering, you will receive a confirmation email containing information about joining the meeting.
Note - this meeting's recording will not be made available.
Open to all.
Location:
Online