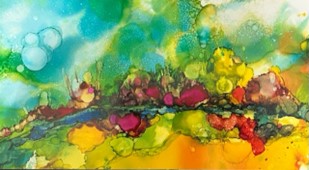 Painting with Alcohol Ink - Level II
Saturday, June 10, 2023 | 9:30am-12:30pm
Saturday June 10, 9:30-12:30
Students who have previously taken Alcohol Ink Paint classes with Jan Settle will now learn how to create landscapes that are colorful and vibrant. Students will be using blending fluid and brushed to create textures and shapes. Material fee is $15 due to the instructor at the start of class. Prime members Free, Standard members $10, Guests $20.
Cancellation Policy: If you cannot attend this class after registering, please let us know. Due to the need to purchase supplies in advance, cancellations with fewer than 7 days' notice will be charged the materials fee.
Brief Bio on Instructor: Jan has been an artist since she was a child, has studied Art at VCU and has taught many classes here at The Center.
Open to all.
Location: The Center
Seats available: 6