Tai Chi Evenings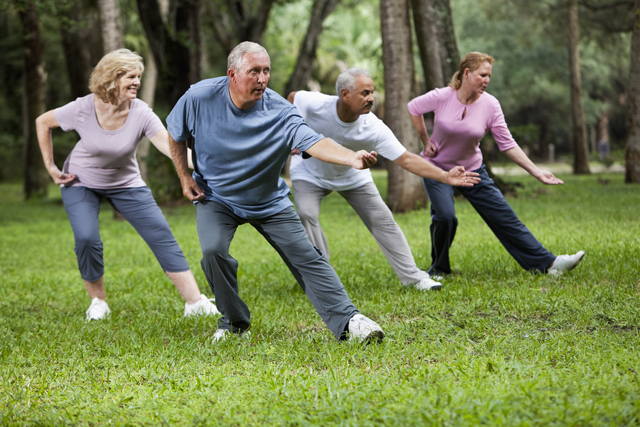 Wednesday, February 1, 2023
Details:
Wednesdays 5:30-6:30
Stimulate your immune system, lower your blood pressure, decrease your stress and improve your balance: That's not a bad scorecard for one hour's worth of exercise each day! If you can walk, you can play. Visitors are welcome to try it out! Taught by Bryan McKenzie. Also on Thursdays and Fridays 8:30-9:30am.
Background The Center has offered Tai Ji (an alternate spelling of Tai Chi) for 14 years. The teaching method allows participants to learn health aspects of the discipline, its connection to Chinese medical theory, meditation techniques for relaxation and to bolster the immune system, and even self-defense techniques. The system is based on the Three Emperors style of martial arts taught by Wang Zhenhua, a former coach at Beijing University. The Center's program was initiated by Mr. Wang's student, John Alton, Charlottesville resident and someone recognized by the Chinese government as an expert in Chinese health practices. Lei Xilai, an instructor who came to the states from the Beijing area, taught advanced classes at The Center and introduced new forms to the class. The current instructor, Bryan McKenzie, has taught for the past 12 years. Bryan is a student of Mr. Lei and Mr. Alton. Bryan leads the TaiJi group with a clear mind, with firm hands and a warm heart, and above all with gentle words. He has a great sense of humor and no pretense at all.
About the Exercise
The exercise is simple -- in a series of movements based on a Taoist martial art, participants slowly relearn how to balance, purposefully shifting weight from side to side and then increasing the difficulty of the movements. The slow movements not only redefine balance, but also provide a workout similar to the old Charles Atlas "dynamic tension" exercises for muscle development. Participants currently range in age from 50 to 94 and allowances are made for personal stamina, strength, medical history, and ability. The atmosphere is relaxed and easy-going; participants running late for class are welcome to join in whenever they arrive.
Location:
The Center