Beginner Oils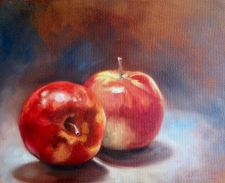 Friday, September 30, 2022
Details:
Monday, January 23-February 13, 1-4pm (4-week series)
Learn the fundamentals of working with the King of mediums: oil paints. We will learn how to mix colors, how to create various basic forms, and the basics of good composition, using light and shadows. Prime Members, free, Standard Members, $30, Guests $45. For materials information and registration, click here.
Kathleen has been painting since she was 3 years old and has always viewed painting and color as a tool for creating magic. Her paintings have won awards throughout her life in various venues. She is largely self taught, but credits her artistic father and sister for much of her inspiration. Prime Members free, Standard Members $100, Guests $125. Materials fee for all: $75, payable to instructor at time of class.
Materials Needed
Van Gogh Oil Color Paint, 10x20ml tubes, Basic Set available on Amazon
Artify15 Piece Brush Set, Intermediate Series avalable on Amazon
paper towels;
canvas or primed panels - 11x14"
turpenoid
Liquin®
Open to all.
Location:
The Center
Seats available: 14