National Senior Health And Fitness Day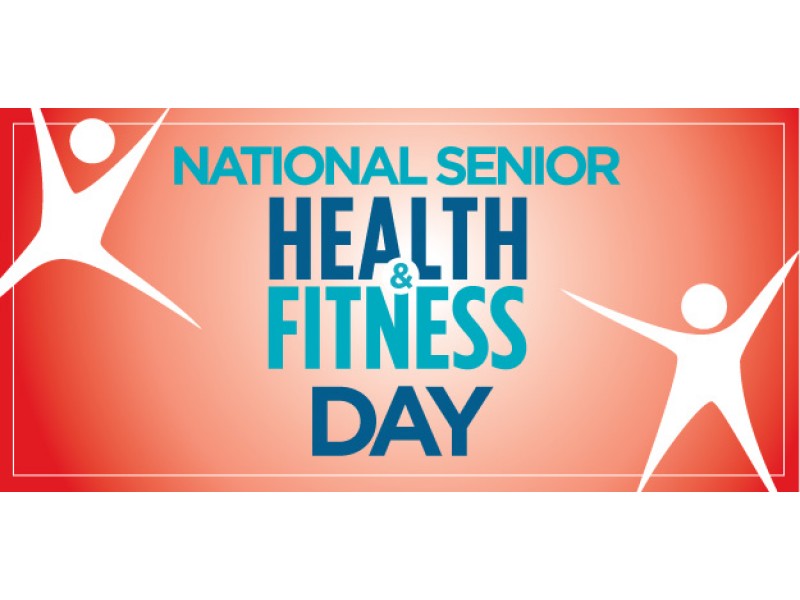 Wednesday, May 29, 2019 | 8:30am - 4:00pm
Details:
National Senior Health & Fitness Day is a nationwide health and fitness event for older adults. More than 120,000 older adults will participate at local events across the country on the same day. The event's goals are to promote the importance of regular physical activity, and to showcase what local organizations are doing to improve the health and fitness of older adults in their communities. Join us as we celebrate healthy aging! We will have free exercise classes, speakers on healthy nutrition as we age, blood pressure screening and more.
8:45 – 10:00 am Blood Pressure Reading (Home Instead Senior Care) and Blood Sugar Test (Care Advantage)
8:45– 9:45 PM Brain Games
8:45 – 9:45 am Tai Chi Stimulate your immune system, lower your blood pressure, decrease your stress and improve your balance
10:00 – 10:30 am All Core 360 (Scott Wagner Chiropractic) Find out a new way to strengthen your core muscles.
9:45-10:45 am PrimeTime low-impact aerobics, body toning and stretching exercises
11:00-12:00 Noon NIA for Healing (Sheila Queen) designed for anybody seeking a gentler movement practice to complement and facilitate healing of body, mind, emotions, and spirit.
12:00-1:00PM Plants not Pills presented by Melissa Healy. Melissa holds a certificate in plant-based nutrition from the T. Colin Campbell Center for Nutrition Studies/Cornell and is a certified vegan lifestyle coach and educator.
(Light Lunch donated by Our Lady of Peace)
1:15-2:15 PM Ageless Grace (Sheila Queen) A new and fun way to move that includes a chair (seated dancing; standing is optional)! Ageless Grace® is both a body and brain exercise.
2:15-3:00 Chair Yoga (Julie Horne) Students can learn many kinds of yoga postures, breathing techniques, meditation, and ways of relaxation, with the aid of a chair.
3:00 Door Prize Drawing
3:00 – 4:00 Ping Pong
Free and open to the community
Open to all.
Location:
The Center