Painting Landscapes/Seascapes with Oil for Beginners (ONSITE)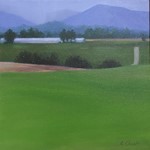 Friday, June 11, 2021
Details:
This class is currently full.
Every Friday for eight weeks - May 14-July 2
Local award-winning artist Ann Cheeks will instruct this 8-week class in oil painting for beginners. Working from photographs (your own or ones provided) you will set up your palette, learn to mix color, simplify shape, and create the illusion of depth while discovering the luscious feel of oil paint. Odorless mineral spirits will be used, which eliminates the harmful agents typically associated with oil painting. At the end of the class, you will have 2 or more finished paintings. Class fee: Prime members free, Standard Members and Guests 80.00. Materials fee $20.00 for all, payable to instructor at the first class.
A graduate of VCU and former graphic designer, Ann has been painting and teaching art for over 20 years to adults and children. Her award-winning landscapes have been exhibited throughout the US and are in multiple corporate and private collections.
Open to all.
Location:
The Center