Learning from the Masters (Acrylics)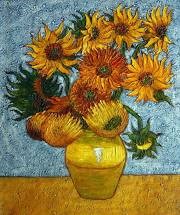 Friday, September 3, 2021 | 12:30pm - 1:30pm
Details:
There are four separate classes offered. You must sign up for each class individually.
Join artist Jan Settle for a little art history & lots of fun painting time as you learn about Vincent van Gogh, the Painter of Sunflowers. In week one, with Jan's instruction & assistance, you will paint a vase of sunflowers using van Gogh's work as a reference but adding your personal creative touch! Class fee: Prime Members free, Standard Members and Guests $15.00 per weekly class. Materials fee $15.00 for all for each class, payable to instructor at time of class. This is the first class in a series of learning & painting like the Masters.
September 3rd - Sunflowers - Vincent Van Gogh
Location:
The Center
Sorry, this event has sold out!