Hiking-Monday (Offsite)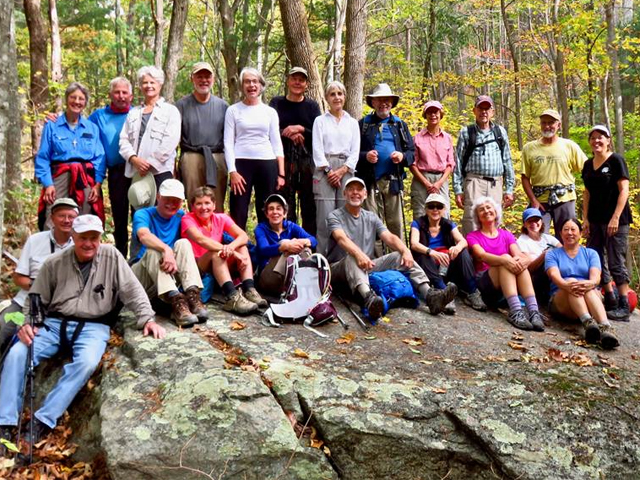 Next session: Monday, September 25, 2023 | 9:00am-3:00pm
Details:
Mondays, 9:00am-3:00pm
We hike Mondays and Wednesdays all year long, in many different areas, including around Charlottesville, Shenandoah National Park, and along the Blue Ridge Parkway. The hikes can range in length from 5-10 miles with a total elevation gain from 500 to 2500 feet. Our hikes are rated from moderate to strenuous. This is based on the length of the hike, the amount of total elevation gain, and the terrain, which can often include steep ascents/ descents on rocky, uneven ground and stream crossings over slippery rocks. Our hikes are typically not not suited for beginner hikers.
Please dress appropriately for hiking in the mountains, including rain gear and hiking shoes or boots. Trekking poles are highly recommended and traction devices for boots may be necessary in winter. Bring lunch, snacks, 2-3 liters of water, a hat and wear layers. Bug spray and sunscreen are a must in summer. Hikes are smoke free, pets are not allowed, and we follow the "leave no trace" rule.
In this Post pandemic time we are still having sign ups for hikes. We take 14 hikers plus the leader on each hike. We hope that all participants are vaccinated. If not, we ask that you follow social distancing and mask requirements, We have a hiker email google group. The hike leaders send out emails about the hikes on Fridays at 5:00 pm for the Monday hikes, and Sundays at 5:00 pm for the Wednesday hikes. Sign up is on a first come, first serve basis. We do not carpool from The Center to the trailheads. Hikers are encouraged to set up carpools with other hikers if possible. The hike leader sends out the names of the hikers on each hike. We meet at the trailheads at 9:30 am and 9:00 am on Wednesdays from Memorial Day to Labor Day.
Directions to the trailheads are included in the emails.
If you are hiking with us for the first time, please contact the hike leader directly, to discuss your hiking experience and to ensure your readiness and suitability for the hike. We want to ensure the safety of all our hikers. We encourage a spirit of camaraderie and welcome new hikers to try our group out. Since we are an associated program with The Center, hikers must be Center members in good standing.
Please keep in mind that there are inherent risks in hiking as in any vigorous activity. We always take care of each other, but ultimately you are responsible for your own safety.
If you would like to be put on our email list or have further questions please contact AnneColgate
Click here to view the October-December Schedule
We all look forward to meeting you and thanks again for your interest.
Hike leaders:
Anne Colgate- annecolgate@gmail.com
Terry Metcalf- kerroppimom@gmail.com
Maynard Davis-davismk@sbcglobal.net
Steve Braintwain- sbraintwain@comcast.net
Hassan Gomaa-hassangomaa@yahoo.com
Members only.
Location:
Offsite