Hiking-Wednesday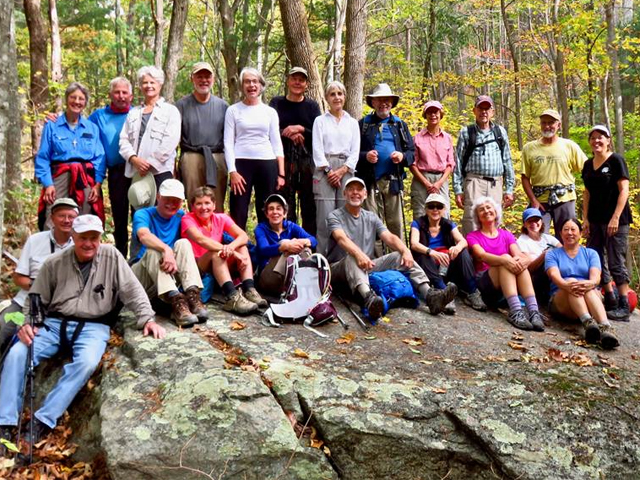 Wednesday, October 2, 2019
Details:
The Center hiking group hikes on Mondays and Wednesdays. We hike in many different areas, including around Charlottesville, in Shenandoah National Park and along the Blue Ridge Parkway. We meet at The Center and carpool to the trailhead. Hikes are chosen by hike leaders and range in length from approximately 5.5 to 7 miles on Mondays and 6 to 9 miles on Wednesdays. Total elevation gain can range anywhere from 600 to 2500 feet.
Please dress appropriately for hiking in the mountains, including rain gear and hiking shoes or boots. Trekking poles are highly recommended, and traction devices for boots may be necessary in the winter. Bring lunch, snacks, plenty of water, a change of shoes, and $5.00 for the carpool driver. Dogs are not allowed.
We usually carpool from The Center, leaving at 9:00 am and returning around 3:00-4:00, but times may vary. We encourage a spirit of camaraderie and always welcome new hikers. The Center hiking group is primarily for members only but if you are not currently a member you are welcome to join us for a couple of trial hikes.
Please keep in mind that there are inherent risks in hiking, as in any vigorous activity. We always take care of each other on the trail but everyone is responsible for their own safety.
If you have questions or would like to be put on our email list for the most up-to-date hike details, please click on our hiker email address: sccvillehikers@gmail.com
Current hike leaders
Anne Colgate – amc16633@hotmail.com
Claire Cline – clinec2@gmail.com
Gabriel Garretson – gcreative@hughes.net
John Herrity – harrid@aol.com
Lindsay Brown – lwb1428@gmail.com
Maynard Davis – davismk@sbcglobal.net
Terry Metcalf – keroppimom@gmail.com
Steve Braintwain – sbraintwain@comcast.net

Members only.
Location:
Varies; check schedule