Hiking-Wednesday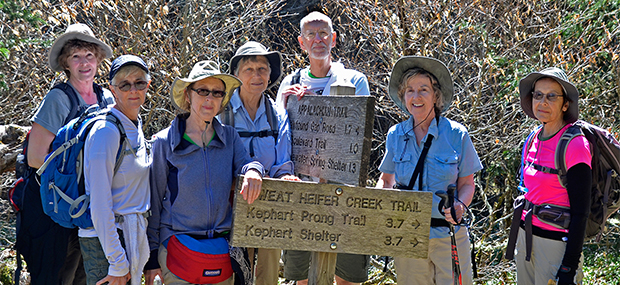 Wednesday, August 8, 2018
Details:
The senior center hiking group hikes Mondays and Wednesdays. We hike in Shenandoah National Park along skyline drive and south along the blue ridge parkway. We meet at the senior center and carpool to hiking trailhead. Hikes are chosen by the Hike leaders and range in length from approximately 5.5 miles- 7 miles on Mondays and 5.5 miles-8 miles on Wednesdays. Elevation changes range from 1200 ft. to 2500 ft. Please bring lunch, snacks, water , and a change of shoes, plus $5.00 for carpool driver.

Please dress appropriately for mountain weather, including rain gear, and hiking shoes. Trekking poles are suggested, as are traction devices for boots in winter. Dogs are not allowed.
We usually leave the senior center at 9:00 am and return by 3:00-4:00 though times may vary. We encourage a spirit of comrade and always welcome new Hikers. Please keep in mind that there are inherent risks in hiking, as in any vigorous activity. We always take care of each other on the trail, but everyone is responsible for their own safety and well being. Click here for the most recent hiking schedule.
Please contact our hiker email address for a list of current hikes or with questions:
Sccvillehikers@gmail.com

Hike Leaders:

Anne Colgate- amc16633@hotmail.com 301-938-9741
Gabriel Garretson-ghb2011@hughes.net
Pete Fink- roughnrocky@gmail.com
Maynard Davis-davismk@sbcglobal.net
Terry Metcalf-kerroppimom@gmail.com
Steve Braintwain-sbraintwain@comcast.net
Members only.
Location:
Varies; check schedule