Pride Game Night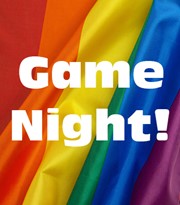 Next session: Wednesday, October 18, 2023 | 5:30pm-7:30pm
Details:
Upcoming Dates:
Wednesday, October 18
Tuesday, November 14
Thursday, December 7 - Holiday Potluck and Game Night!
From Pinochle to Parcheesi, Chess to Canasta, we've got game! Grab a drink at Greenberry's with your friends and set up at a table. Or bring your own games - it's all in good fun! Free and open to all – everyone welcome.
Available games:
All card games
Apples to Apples
Backgammon
Boggle
Checkers
Chess
Mexican Train Dominoes
Monopoly Deal
Monopoly - Charlottesville Edition
Parcheesi
Pictionary
Rummikub
Scrabble
Trivial Pursuit
Uno
Yahtzee
Don't see one you like? Bring your own to play!
Open to all.
Location:
The Center