Movie Night - August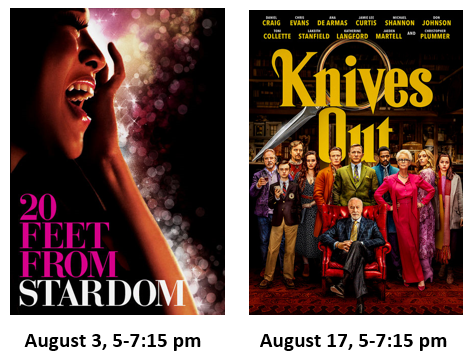 Wednesday, August 3, 2022
Details:
First (documentary) and third (movie) Wednesdays of each month 5-7pm.
Wednesday, August 3, 5:00-7:15 pm
20 Feet From Stardom
Winner of the 2014 Academy Award for Best Documentary Feature, this film takes a behind-the-scenes look at the world of backup vocalists, weaving together interviews with legendary singers with the voices that support them. Featuring Bruce Springsteen, Sting, Mick Jagger, Stevie Wonder, Bette Midler, amazing backup vocalists, and more. Free and open to all. Register below.
Wednesday, August 17, 5:00-7:15pm
Movie Night – Knives Out
Renowned crime novelist Harlan Thrombey is found dead at his estate. Inquisitive Detective Benoit Blanc is mysteriously enlisted to investigate. From Harlan's dysfunctional family to his devoted staff, Blanc sifts through a web of red herrings and self-serving lies to uncover the truth behind Harlan's untimely death. An all-star cast in this hilarious crime thriller. Free and open to all, register below.
Open to all.
Location:
The Center