Repurpose Your old Sweater (ON SITE)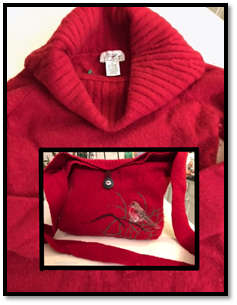 Friday, September 17, 2021
Details:
September 17th and 24th (2-week class)
Transform your old woolen sweater you accidentally shrunk or are just no longer wearing into mittens, a hat, tote bag, fingerless gloves, a cowl or scarf, etc. Don't have an old sweater? A thrift store find is another option. Items need to be preshrunk, primarily wool or a wool blend of other natural animal fibers (e.g., alpaca, angora, cashmere). Make your repurposed item(s) in the first class, then choose a design and needle felt it onto your creation in class two. Some hand sewing required. Prime members -free; Standard Members and Guests - $30. Materials fee: $12 for all participants, payable to instructor at time of class.
Supply list:
Please bring the following, if you have them available: (don't feel you have to go out and buy all these items)
Sweater
Scissors
Straight pins
Ruler or measuring tape
Marker/pencil
Paper (to draw pattern)
Needles and thread (color to coordinate with your sweater)
Miscellaneous items: buttons or fasteners Image or idea for needle felt design (we'll discuss further in class 1, if you are not sure)
Fiber artist Donna Markey has studied and played with fiber for years. She loves teaching and sharing this creative art form with people of all ages, and to see the joy in peoples' faces as they create their own masterpieces. No experience necessary.
Open to all.
Location:
The Center
Seats available: 3