Hiking-Monday (Offsite)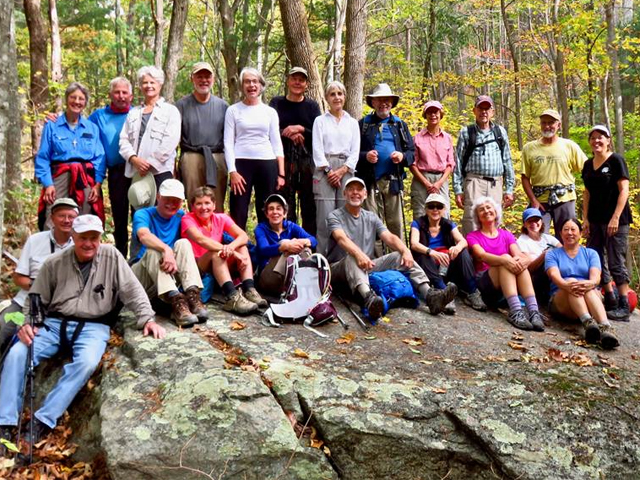 Monday, April 5, 2021
Details:
The Center hiking group hikes on Mondays and Wednesdays. We hike in many different areas, including in Shenandoah National Park, along the Blue Ridge Parkway and around Charlottesville. Hikes are chosen by the hike leaders and range in length from approximately 6-7 miles on Mondays and 6-10 miles on Wednesdays. Total elevation gain can range between 600 to 2500 feet. Click here to view the 2021 hike schedule.
Please dress appropriately for hiking in the mountains, including rain gear, and hiking shoes or boots. Trekking poles are highly recommended and traction devices for boots may be necessary in winter. Bring lunch, snacks, 2-3 liters of water, a hat, and wear layers. Bug spray and sunscreen are a must in summer. Dogs are not allowed.
During this time of Covid, some of our procedures are very different. We are only having nine hikers plus the hike leader on every hike. This is for the safety of everyone. Physical distancing is practiced throughout the day. We have a hikers email google group. The hike leaders send out emails about the hikes on Fridays for the Monday hikes and Sundays for the Wednesday hikes. Sign up is on a first come first serve basis. There is no carpooling and everyone is responsible for meeting at the trailheads. We meet at the trailheads at 9:00 am. This time may change in winter. Directions are included in the hike emails.
We encourage a spirit of camaraderie and welcome new hikers to try it out. Due to the smaller groups during the pandemic, hikers must be Center members in good standing.
Please keep in mind that there are inherent risks in hiking, as in any vigorous activity. We always take care of each other but everyone is responsible for their own safety. Since hiking is such a vigorous activity, we do send a more detailed description of our hiking group and the expectations to all new hikers.
If you have any questions or would like to be put on the email list, please contact Anne Colgate at annecolgate@gmail.com
Hike leaders:
Anne Colgate- annecolgate@gmail.com
Terry Metcalf- kerroppimom@gmail.com
Maynard Davis-davismk@sbcglobal.net
Steve Braintwain- sbraintwain@comcast.net
Hassan Gomaa-hassangomaa@yahoo.com
Members only.
Location:
Offsite